One of the many questions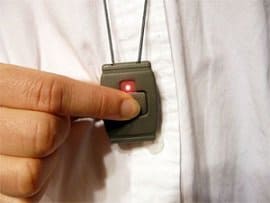 those on Medicare or Medicaid ask is whether or not the programs will cover the cost of a fall detection device or other types of medical alert devices, like the GreatCall medical alert. These emergency response system devices are usually worn on a lanyard around the neck and allow senior citizens to contact emergency services if they fall and are unable to get up or reach the telephone. Some can even have auto fall alert which can detect when a person falls and automatically call for help. These devices bring great peace of mind and can save lives, but some people are worried about the cost. Will Medicare or Medicaid pay for medical alert monitoring?
Medicare
Medicare Parts A and B do not pay for medical alert devices. However, it is possible that seniors can obtain a medical alert device through their own insurance or through one of the Medicare supplement plans (in this case, Medicare Part C).
Medicare Part C, sometimes referred to as Medicare Advantage, is a private health insurance plan for those who are members of Medicare Parts A and B. Part C includes coverage for additional benefits, including dental, vision, and hearing coverage. Private insurance and Medicare Part C may help cover the cost of a medical alert device or assist with defraying the monthly fees for a personal emergency response system. However, whether or not one of these devices is covered will vary by insurance provider. Those interested will need to find out if their insurance or Medicare Part C in their state covers a medical alert device.
Don't be discouraged to find that Medicare and private insurance companies refuse to pay for a medical alert device. In many states and local communities, senior citizen assistance programs are set up to assist the elderly with a number of different costs, including medical equipment and medical alert devices. To find out if your state has a senior care program like this that will assist with costs, contact your local Department of Human Resources, Department of Aging Services, or other state department that is tasked with assisting the elderly.
Medicaid
With Medicaid, it gets even more complicated. The program will pay for some medical alert devices—there are four programs that fall under Medicaid that will pay for one. If you qualify for Medicaid, you may be able to use one of these programs to cover some or all of the cost of your emergency response system. However, it depends on how the program operates in your state.
A waiver from Home and Community Based Services. The HCBS programs do offer waivers for personal emergency response services, but what those services are may differ from state to state. Many of these waivers are only available for the initial fees, not the monthly payment, but again, that may be different in certain states.
Consumer Directed Services. In some states, Medicaid will provide funding for the elderly without placing restrictions on what these funds can be used for beyond that they must be used for health-related costs.
Money Follows the Person. This Medicaid program is designed for those in nursing homes or assisted living facilities. The aim of the program is to make it possible for these people to return to their own homes or to move in with a relative. It pays for services that go hand-in-hand with that goal, including medical alert devices.
Medicaid State Plan Personal Care Attendant Programs. These programs vary from state to state and may help with medical alert devices. Often, they operate very similarly to the HCBS programs.
Don't Give Up
While getting assistance for a medical alert monitoring device may seem difficult, don't give up. These devices can save lives in medical emergencies, and it's vital that those who have fallen before or may fall again have one of them. Finding financial assistance may seem like an uphill battle, but it's well worth it. If you need additional help finding the best medical alert company to use, you can check out MobileHelp reviews on our site as well as many others!