Most traditional medical alert monitoring systems rely on a pendant or button that your loved one must press in order to call for help. These systems are highly effective and save lives every day.

Some seniors, though, are at a higher risk of falling than others. In fact, studies show that one in four seniors aged 65 and over fall each year. There is the possibility that when your loved one falls, they may be unable to press their medical alert button to call for help. This is where Automatic Fall Detection fall alert systems come in. If the fall detection sensor records a fall, it will automatically place a call for help. You can choose to decline help if you do not need it however, if you do not cancel the request, help will be on the way.
Automatic fall detection technology is still evolving in the medical alert industry and it's not without some controversy, since they can't detect 100% of all falls. Read our most frequently asked questions in regards to medical alert devices with wearable fall detection to learn more.
Medical Alert Systems with Fall Detection – Key Takeaways
Fall detection technology is readily available in most medical alert system devices, as well as in smartphones and smart watches. Here are a few highlights to keep in mind:
Fall detection bracelets, pendants, and watches can provide peace of mind to both the user and their loved ones.
Fall notification devices are not 100% accurate, but the technology is becoming more accurate as it continues to advance.
Fall detection technology is used to prompt the system or device to check on the welfare of the user immediately. The user has the chance to say they are okay, at which time the device will not pursue emergency calling. However, if the user doesn't respond or responds with a request for help, the system will begin emergency calling.
What is Fall Detection?
Automatic fall detection, or Automated Fall Detection, is typically built into a fall alert pendant that may also be worn on your waist, depending on your system. Some companies also offer a wireless fall detection bracelet. They can be worn while relaxing on the couch, sleeping or even in the shower. As this technology continues to evolve, new products have emerged that do not require you to wear a fall pendant at all. They use low power radio wave technology to monitor your movement within a specific space, like a bathroom. Apple has created a fall detection watch that has fall detection technology built into it. The Apple Watch Series 4 is the first of its kind to incorporate this technology.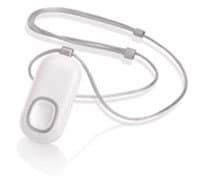 These systems feature detection sensors (multiple accelerometers and processors) and an algorithm that can detect between normal activity, and an actual fall. By continuously measuring the speed of movements in all directions, the fall detector can compare what it senses to what it considers an actual fall.
You and your kids probably use accelerometers everyday without even knowing it. If you have an iPhone (or other smartphone), you'll notice that your screen changes when you turn your phone sideways. Or when your child uses a Wii gaming system remote control to swing a bat or throw a ball in a game, accelerometers are involved in tracking their movement and displaying their results in the game.
Since fall alert detectors can sense what position they are in, how fast they are moving, and how they are moving (smoothly or abruptly) 80% of users experience no false fall detections per month while 90% of users experience one or fewer false detections per month. This is according to a Medical Guardian technical bulletin. When the fall is detected, the device will send that information back to the monitoring center to determine if you have a problem and need a call for help.
What Are Fall Detection Devices?
Fall detection devices make fall detection technology available to the average person through a wearable device. In most cases, the fall detection device is a pendant, watch, or other small device clipped to a belt loop.
Why Use a Fall Detection Device?
A fall detection device is especially helpful for older adults who might live alone, have a medical condition that causes balance issues, or have mobility challenges. Having a fall detection device on can provide them with the peace of mind they need to move independently throughout their home and day, as well as offer their loved ones that same peace of mind.
A fall detection device is versatile, as it can be helpful for active seniors who are out and about shopping, hiking, and pursuing activities outside of the home as well as older adults who prefer to stay in their home. It can detect falls no matter where the user is.
Finally, a fall detection device can often get emergency responders to the user more quickly. For example, if someone would fall at home and lose consciousness without a device, they would not be able to ask for help until they regained consciousness. Even then, it might take a lot of energy to get to a phone to make the call. If a fall happens with a device enabled with fall detection technology, the user doesn't necessarily need to be conscious in order to give the directive to get emergency assistance. This can lead to quicker response time and treatment, which would hopefully decrease the risk of more serious complications.
Types of Fall Detection Devices
While fall detection technology was not readily available just a few decades ago, today's older adult has their choice of devices that offer fall detection. You can find fall detection in medical alert devices such as pendants and watches, as well as smartphones and smart watches.
Fall Detection Technology Pros and Cons
There are both benefits and drawbacks to fall detection technology. However, as the technology has continued to improve, the list of drawbacks is much shorter than it was even a decade ago.
The benefits of choosing a device with fall detection technology include peace of mind, faster response and treatment, enhanced independence and confidence maintaining the user's preferred lifestyle, and the capability to keep emergency contacts in the loop with what is happening at home.
The major drawback to fall detection technology is that it cannot be 100% accurate. However, most devices will check in with the user if it believes it has detected a fall. If the device was incorrect, the user can simply push a button to say they are fine and that they do not need follow up care or assistance.
It's also important to note that most fall detection technology can only work if the user wears the device. It will do no good if the user isn't consistent in putting on their device.
How Does Automatic Fall Detection Benefit Seniors?
The benefits of automatic fall detection to seniors can be great. Considering that one-third of adults over 65 will fall each year, fall related injuries are not uncommon. Also, if you or your loved one has diabetes, had an evaluation for low blood glucose or another condition that increases your risk of falling, this feature might provide you with additional piece of mind. Getting help fast in these situations could be life-saving.
If your loved one sustains an injury or becomes unconscious from a fall and they are alone, their chance of getting help fast is increased significantly by automatic fall detection technology. Please see our article Falls Are The Leading Cause Of Injury Deaths Among Older Adults on the dangers of falls to seniors.
Does My Loved One Really Need Automatic Fall Detection?
Have you or another family member ever witnessed your loved one fall?
Do they live alone, or is their spouse still living?
Are they beginning to "shuffle" their feet rather than take complete steps?
Are there trip hazards around the home like throw rugs, areas where the floor is uneven, or rooms that have different floor types like carpet, ceramic tile, vinyl, or hardwood floors?
Do they live in a location where there are different floor types in each room which create a "threshold" trip hazard?
Do they have to use stairs to get around in their home?
Does your loved one need to step into a bathtub to use the shower?
Do your aging parents think they can still do just about anything on their own, and you have worries every time you see them doing it?
Does your elderly loved one have a medical condition such as diabetes that is prone to fainting spells?
Has your loved one broken a hip before and need to be extremely careful not to fall again?
Do they live in an area that is prone to slippery ice in the winter time?
Answering these questions may help you decide whether you or your loved one should seriously consider a system with automatic fall detection features.
What Features Should I Look For in an Automatic Fall Detection Medical Alert System?
Besides the features that every traditional medical alert system should provide (see What Are The Most Important Features of a Medical Alert System? ) these auto fall detection systems may offer other advanced features that you may find useful.
First, you need to understand how the fall detectors technology actually works and what its limitations are. One helpful way is to read reviews on medical alert companies that offer automatic fall detection, such as the Medical Guardian alert system. You should also consider the following:
Is the fall detection device truly automatic? If you are unable to push your button for help, the automatic fall detection technology will do it for you.
Is the detection device waterproof? Falls can occur in the bath or shower, so this is an important feature.
How reliable is the technology? Once you receive your system, be sure to test its functionality for your loved one (with them present) so you are all aware how the system and service will operate.
Is the device comfortable to wear or will it get in the way during everyday activities?
How easy to use is the system? You don't want anything that is complicated. If the system is truly automatic, then ease-of use-should not be a real issue. You would also need to make sure your device is easily accessible.
Can you still simply press a button if you need help, or does the system only detect falls? The system should always provide a button to call for help. Many times the button can also be used to cancel the fall detection if you are OK or the system made a false detection.
Does the system tell you if the battery is low in the pendant and whether it needs to be changed or charged?
Does the system have a rechargeable battery or do the batteries simply need replacing?
As with all medical alert systems, does the fall detection system require a traditional telephone line to operate or can it reliably work with cellular or VoIP telephone services, and does it have that mobile GPS technology built-in?
Price might be a determining factor. Compare medical alert companies automatic fall detection monthly costs and you may find some that will add fall detection in combination with their regular medical alert monitoring offerings.
What Are the Limitations of Automatic Fall Detection?
Given that Automatic Fall Detection is relatively new technology, there is some room for improvement and product design. One possible inconvenience could be false alarms. These can occur if there is a sudden movement and then the user perhaps lays down or sits in a chair without any further movement. This could warrant unwanted paramedics to show up at your door, but advances in this technology appear to have greatly reduced false detections.
Something else to consider is accuracy. It is not a fool-proof motion detector. Movements such as sliding might not be detected. It is important to note that Automatic Fall Detection is not 100% accurate. Similar to issues involving VOIP medical alert systems, fall detection is not always foolproof.
What to Consider When Shopping for a Fall Detection Device
Fall detection technology is available in many devices, which is wonderful as it provides the user with a selection that meets their budget, preferences, and personal style. However, all the choices of devices can make it difficult to make a decision as well! Here are a few things to keep in mind as you or your loved one research and eventually select a device with fall detection technology.
Am I comfortable with new technology? If you are tech-savvy, you might find that fall detection technology available in an Apple Watch is your best choice. If you prefer something easier to use, a pendant with just one button to push in case of trouble can often be the preferred option.
What's my budget? Fall detection devices are available at a variety of price points. Pricier versions, like an Apple Watch or smartphone, might be cost prohibitive for some. While you are researching, be sure to see if the device charges a monthly service fee, which you should add to your budget plans.
What will I actually wear it? If you won't realistically wear a fall detection pendant, you might choose a fall detection bracelet or smart watch. Take an inventory of your personal style and what you will realistically wear each day.
What are others saying about this device? You can read reviews online about specific fall detection devices, as well as ask neighbors or friends what they think of their experience.
Is it hard to set up or maintain? You likely won't use your fall detection device if it is too difficult to maintain or set up. Research your options and find a device that offers a quick start and doesn't require a lot of time or attention throughout the life of the device.
How Much Does a Medical Alert System with Fall Detection Cost?
A medical alert system with fall detection for seniors can run anywhere from $39.95 to $50 per month. In some cases, the company will not charge for the equipment itself and might even waive set-up fees for new customers.
Are Fall Detection Devices Covered By Insurance?
While all insurance plans differ when it comes to benefits, most insurance plans do not cover the cost of fall detection devices. However, you might be able to offset the costs by using your flexible medical spending each year. Double check with your specific insurance plan to see what is covered, and what isn't.
As for Medicare and Medicaid, medical alert systems are typically not seen as durable medical equipment and are therefore not covered. There might be some coverage for costs associated with fall detection devices through Medicare Part C, though you need to check with your plan specifically.
How Accurate is Fall Detection?
As with any technology, fall detection is always improving. While no fall detection device can guarantee that it will detect every slip, trip, and fall, most have high accuracy rates when it comes to detecting a hard fall.
How to Choose the Best Medical Alert System with Fall Detection
Begin your decision making process by researching the options available. Then, narrow down your list based on budget, what you need the device to do, and your personal style. You can also look for perks like:
Durability
Water-proof or water-resistant enough to wear in the shower or bath
Comfort of the device
User-friendliness
Large buttons that are easy to read and push in case of emergency
Battery life
Access to monitoring center that is staffed 24/7
Who Should Use a Medical Alert System with Fall Detection?
Older adults should consider using a medical alert system with fall detection. While anyone can benefit from the additional peace of mind, fall detection devices can be especially helpful for older adults with mobility challenges, medical conditions that affect their balance and stability, or with vision challenges. Seniors who live alone are also excellent candidates for a medical alert device with fall detection.
Convincing a Loved One to Use a Fall Detection Device
If you are worried about your loved one falling at home or while out and about, there is a high likelihood that your loved one is worried as well. Falling is scary and many seniors who feel unbalanced on their feet can often resort to sticking to their couch for the majority of the day out of fear of falling. The right fall detection device can provide them peace of mind that if they do need assistance, it is a quick push of a button away or automatic if they can't press a button.
However, if your loved one is resisting the idea, try looking for a fall detection solution that they wouldn't mind wearing. A smart watch, for example, is often a more reasonable request, especially for an active senior.
How to Use a Fall Detection System
Today's auto fall detection technology can sense a fall of less than two feet. This means that even if you fall off your sofa onto the floor, the sensor can call for help. It's important to understand that it may take several seconds for the system to process the data to decide whether it has detected an actual fall, but this will help limit false alarms and improve the system's accuracy and performance.
With the unit shown below, once a fall has been detected, the base station will make a sound and announce, Fall Detected. Press and Hold Button to Cancel. If you or your loved one actually needs help and do not cancel the alarm, the unit will then say, Fall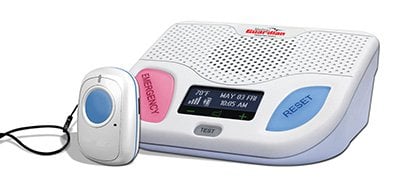 Detected. Contacting Emergency Response Center. Please Stand by for Operator. Once the system connects to an operator in the monitoring center, they will ask if you or you loved one are okay and need help.
If they are able to speak to the operator they can tell them the type of help they need. If you or your loved one is unconscious or unable to speak, the operator will automatically send emergency support services to the home.
Tips for Using Your System
It's best to wear the button on the outside of your clothes but not on your wrist unless recommended. The unit will do a better and more accurate job if it's not obstructed by clothing.
Depending on your system, you should be able to manually cancel the automatic fall detection alert by pressing and holding the pendant emergency button or the reset button on the base station for a certain amount of time, as described by your service provider. Please be sure to understand how to do this.
If a fall alarm or an alarm you manually initiate with the pendant or base station button is not canceled, the operator will talk to you through the base station unit. If the operator cannot hear you or you do not respond, emergency help will be sent automatically.
Is Automatic Fall Detection Worth the Extra Cost?
After carefully considering the needs of your loved one, their current living environment, and how much time you are available to be with them, one other major factor to consider is cost. With the monthly costs nearly twice that of a traditional medical alert monitoring system, the cost alone may be the deciding factor. Is the extra costs worth it? Only you can make that decision. However, if your geriatric physician or health care provider has determined you are prone to falls or if you do not live with elderly care and need the extra peace of mind, you may want to factor that in to your decision. Keep in mind, these emergency alert systems cannot detect 100% of all falls.
Comparisons of the Top Medical Alert Systems with Fall Detection
Automatic fall detection has been around for a short-time compared to traditional medical alert monitoring systems so there isn't much literature available about them. Due to the complexity of the systems, there are less medical alert companies that have been able to introduce reliable fall detection systems, although companies are adding this technology as an add-on service more frequently.
Below are some companies such as LifeStation and Lifeline Systems (formally Philips Lifeline) that offer Automatic Fall Detection medical alert systems. Take a look at the medical alert systems comparison chart to see the differences. There are others too like Bay Alarm Medical and MobileHelp to consider. If you want to know more about the medical guardian cost for fall detection and their features, take a look at our detailed review.
Medical Alert Provider
Medical Guardian
LifeStation
LifeFone
Fall Alert Product
Classic Guardian with Fall Detection
LifeStation At-Home Supreme Package
At-Home Landline with Fall Detection
Installation / Equipment
NO Equipment Fees with Home Guardian
No Activation or Set-up fees.
No Activation Fee
Cost Per Month
$39.95/Month
$44.95/Month
$34.95/Month
Monitoring Agreement
Cancellation Policy
Cancel at any time, and receive a full refund for all unused months of service
No Contract & 30-Day Money Back Guarantee
Cancel Anytime
Repairs or Replacement Charges
No charge for normal wear and tear of the system, all replacements shipped at no cost to user.
None For Normal Wear, Replacements Shipped
None For Normal Wear, Replacements Shipped
Equipment
Classic Guardian with Fall Detection
LifeStation At-Home with Fall Detection
At-Home Landline with Fall Detection
How Can The Button Be Worn
Pendant
Pendant
Pendant
UL Certified Equipment
Yes
Yes
Yes
Telephone Line Required?
Both Landline & Cellular Options Available
No. Uses Cellular Service
Both Landline & Cellular Options are Available
Special Offers
Medical Guardian Fall Detection
LifeStation At-Home Fall Detection
LifeFone Fall Detection

DISCLOSURE: We may receive referral fees from these companies for purchases or inquiries made by you. Thanks to your support, we can maintain the website & offer you special discounts, at no cost to you.

Limited Time Offer

:

FREE Ground Shipping, FREE Month of Service, and FREE Lockbox for new customers purchasing subscriptions on select plans & equipment.

Supreme Package Includes:

Free Equipment, Shipping, & Activation
Equipment Protection Plan
Fall Detection
30-Day Money Back Guarantee
Industry Leading Response Time

Lifetime Price-Lock Guarantee

30-Day money back guarantee
Lifetime price guarantee
Spouses protected free
Why You Can Trust Our Expert Reviews
Medical Alert Advice has been following medical alert systems and options for many years. We work hard to keep up with what consumers are asking and how the medical industry is responding to those requests. Please see our About Us page to learn more.
Frequently Asked Questions
What is a fall alert bracelet?
Fall alert technology for seniors is available in a variety of devices. Some devices include the pendant, the bracelet, smartphone or smart watch.
Do all medical alert devices offer fall detection technology?
No. Some medical alert devices are designed without fall detection technology. Be sure you research your options and choose a system and device that meet your needs.
Can I use any smart watch for fall detection?
No. Not all smart watches offer fall detection technology. If this is an important feature for you, ensure you see it is available on a smart watch before you purchase it.
Now that that you are an expert on automatic fall detection, we hope our education on automatic fall detection systems has helped you make the right choice for your lifestyle!