Operating their own 5-diamond monitoring centers in New Jersey and Texas, LifeStation is a large family owned company with great prices and decades of experience.
Our Top Pick!
Medical Guardian is consistently one of our top picks. The have protection options for all lifestyles and needs.
Join 300,000+ customers who Live Life Without Limits.
In business since 1976, LifeFone offers a lifetime price-lock guarantee & free protection options are available for spouses.
How We Compare Medical Alert Systems
Medical Alert Advice was created to simplify your online shopping search for the latest medical alert devices. We created this handy cost comparison guide to help your decision-making process when researching medical alert systems. Think of our site as your personal alert system consultant! If you are looking for yourself or a family member, our handy medical alert guides can help create a medical alert expert out of anyone! We cover the basics including reviewing many of the features you will be looking for when researching emergency response systems, such as monthly fee information, equipment pricing, pendant options, medical and/or medication monitoring and automatic fall detection. This comparison chart has it. You are able to see if the medical alert company you are interested in has location GPS tracking, GPS mobile alert devices, smartphone apps and a backup battery in case of a power outage.
Should You Buy a Medical Alert?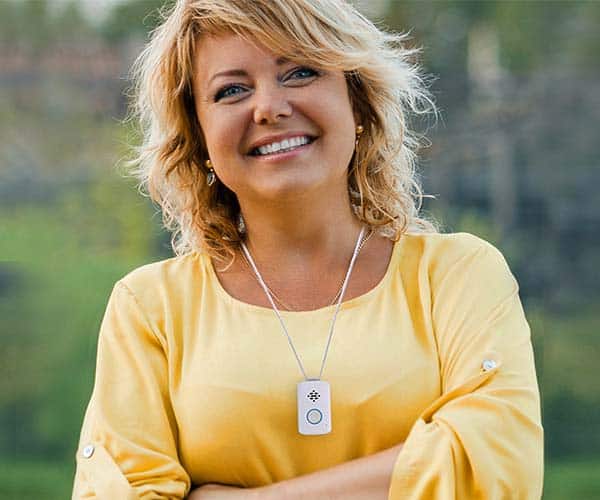 A medical alert is the most affordable and effective senior protection you can get!
We also break down the latest medical alert information technology such as voice-in-pendant and the latest activity monitoring options. Having a handsfree medical alert pendant these days, as opposed to being tied to a base unit, can be like using a wearable computer. It can detect all types of movement such as fitness tracking and detecting falls. Some medical alert systems come with fall detection automatically built in. If your device doesn't come automated with fall detection, it most likely is available as an add-on option. Seniors who are susceptible to falls or have foot problems, may want to utilize automatic fall detection as an add-on option.

In some cases, you might not need a medical alert pendant at all! Some of the companies we review have caregiving and tracking apps for your mobile phone and some have smartwatch devices that blend seamlessly into your everyday lifestyle. You loved one can assess risk management from across the country with the help of these apps.

Another feature to look out for is a company that also provides whole house surveillance as add on to their medical alert system offerings. Having access to the additional security and protection may help bring your family peace and calmness if they live far away.

Our reviews stand out for our detailed price evaluation of each company's offerings. We discuss payment discounts, contracts and what is industry standard. We even break down the packing and labeling time to process orders and shipping costs. We call in to each customer service center to get a feel of the full human to human experience. We know that signing up for a medical alert monitoring service can be a long-term financial transaction and we want to educate people on the exact amount of money they will need to pay for these systems and services.

Many questions were researched to compile this comparison and create our life alert reviews. The information we gather, may have been obtained from the company's website, telephone conversations with sales representatives, on-line chats, product brochures, and other website sources. If the information received during this research conflicted, we listed the most frequent answer. Be sure to verify that the service you choose is right for you and not to rely solely on the information provided on this website or others. Keep in mind that most medical alert companies are based in the United States and their services work only in the U.S., although some may also serve Canada. If you live outside the country, you may want to find another solution.

As people enter old age, a medical alert system can help them age in place longer. We know you can trust our expert medical alert comparisons as they are written with the consumer's best interest in mind. We wish you luck in learning which medical emergency system is right for you or your aging loved one and remember that help is only a telephone call away!
Recommended for you...
Find out Philips Lifeline cost information and all other features in our detailed review.