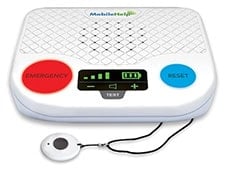 WHO IS MOBILEHELP?
MobileHelp was created in 2008 with the goal of providing the leading personal emergency response system technology. They are based in Boca Raton, Florida, and service clients in all 50 states. MobileHelp not only provides medical alert services directly to consumers but also develops and distributes its technology to other medical alert companies.
They have an innovative web portal called MobileHelp Connect which is an online tracking platform for caregivers and families and is great to complement their medical alert systems. They claim to answer a call for help every 4.3 minutes. MobileHelp has a very thorough website that includes a Live Chat feature for any of your medical alert questions. You can also learn more about their senior management team in the About section of their website.
MOBILEHELP REVIEW SUMMARY
MobileHelp's medical alert equipment is modern-looking, and they don't have a pushy sales team. We like the fact that they have all of the latest technology with no phone line (cellular), GPS, activity monitoring, medication reminders, and automatic fall detection options. Please keep in mind that AT&T cell coverage needs to be available in your area to take advantage of all their product offerings except MobileHelp Wired Home. MobileHelp has lots of payment options that are reasonable compared to other medical alert companies.
MobileHelp offers a variety of systems for in-the-home and on-the-go:
In-Home
1. MobileHelp Classic: A cellular networked-based, no home phone line system with an in-home base station. What this means is that if you do not have a landline in your household, you will still be able to utilize the MobileHlep Classis since it does not require a traditional telephone in one's home. The help button can be worn around your neck or on your wrist. It has optional automatic fall detection and access to MobileConnect (described below). Keep in mind, if there is a power outage, the backup battery on the base station will last up to 30 hours.
2. MobileHelp Wired Home: Wearable help button that is a landline-based medical alert system. No cellular connection is required. Two-way communication is built-in to the pendant so you can speak directly into it when you need help. Perfect for homes without reliable cell phone service. It has access to MobileConnect (described below).
3. MobileHelp Touch Classic: This system works the same as the traditional in home units except it comes with a sleek 8-inch touchscreen tablet that is easy to set-up and use. The tablet comes with extras such as a photo gallery and games. You can also choose to use the activity tracking and medication reminders. In an emergency, you can call directly from the home screen or the wearable pendant.
On-the-Go
1. MobileHelp Solo: A cellular-based GPS tracking enabled mobile option, for protection in or outside the home and access to MobileConnect.
2. MobileHelp Micro: The MobileHelp Micro is the smallest and most lightweight option. This mobile option has GPS location tracking and is water resistant. It also comes with automatic fall detection built in.
There are multiple discounted-bundled service packages to choose from and some include their premium service offerings:
1. MobileHelp Duo: Combines the MobileHelp Classic and MobileHelp Solo packages for both in-home medical alert system and on-the-go coverage.
2. Mobile Duo: New 2-for the price of 1 GPS medical alert system. Get two help buttons with this plan. If you share the same address with someone, you both can get this deal.
3. Mobile Help Touch Duo: This combination comes with both an in-home touchscreen unit for coverage in the home, and a small mobile unit (with GPS) that provides coverage both at home, as a second speaker, and away from home as your main unit on the go. You also receive a free lockbox, and one standard waterproof neck pendant help button.
MobileConnect Premium: MobileConnect Premium is available for an extra $6.00 monthly fee on any subscription and includes the online portal provided with MobileConnect, equipment replacement plan (deductible applies), (30) additional Location Service requests (pings), discounts on the Fall Button and accessories, Activity Monitoring and Medication Reminders.
MobileConnect: An online portal (also accessible through an app on your phone or tablet computer) that provides you or someone who is concerned about you with emergency alerts, non-emergency alerts, system status alerts, and allows for up to (30) Location Service requests (pings) with any subscription that includes their GPS enabled Mobile Device. MobileConnect is included with any of their subscription services but its features may be limited to your mobile medical alert equipment's capabilities.
So how do you make the best choice between all of the available options? During your decision-making process think about how you actually live your everyday life. Do you spend most of your time at home or do you frequently go to the neighborhood store or visit friends? Are you looking for coverage for just yourself or for your spouse too? Do you want your loved ones to be able to know where you are or make it easier for emergency services to find you when you are away from your home? If you are feeling a bit overwhelmed by all of these questions, MobileHelp has a great product chooser on their website to make the decision process easier but if your preference is more personalized help give them a call and someone on their team can help you choose the right system for your needs.
MobileHelp no longer carries the MobileVitals Duo plan however if you are interested in a vitals monitoring service, you can purchase equipment such as an oximeter, blood pressure machine, and scale on your own and it would be an additional $15 per month for MobileHelp to monitor the vitals for you.
MobileHelp does have a new Voice-Activated Waterproof Wall Mount Button available now if you call in to order. It is an add-on feature to a MobileHelp Cellular Base Station or Mobile Device and the cost is $5.00 per month. It can be mounted on any flat surface and will call for help within a vocal range of the device.
MOBILEHELP PROS
No equipment or set-up charges, free activation, activity monitoring option, advanced medication reminder option, automatic fall detection, equipment status alerts, refunds for unused months of service, and emergency 24-hour emergency support.
MOBILEHELP CONS
Equipment replacement can be expensive without their protection plan, and even with this plan, they require a deductible. Their monitoring center is not company owned or TMA Five Diamond Certified but did receive the central station of the year award in 2016, no carbon monoxide or smoke detection options offered.
RATING:
COMPARE DEVICE FEATURES:
| | |
| --- | --- |
| PROS & CONS TO CONSIDER | |
| Price | MobileHelp Review |
| Cost for Equipment | Free equipment |
| Cost Per Month | Plans start at $19.95 per month |
| Advance Payment Discounts | Yes |
| Monitoring Agreement Term | 30-day risk free trial period. No long-term contracts. You will also receive a refund for any pre-paid monthly services, prorated from the day MobileHelp receives the returned equipment. |
| Repairs or Replacement Charges | Replacements are shipped free for defective equipment and battery replacements. |
| Cancellation Policy & Discounts | MobileHelp Review |
| Cancel at Any Time | Yes |
| Senior Discount | None |
| Other Discounts | None |
| Equipment | MobileHelp Review |
| Approximate Button Range in Typical Home | The MobileHelp Classic base station unit has a 600′ range. The MobileHelp Mobile Device has a 350′ range. The MobileHelp Wired Home has a 1,300′ range. |
| Watch/Button Battery Life | Battery will last over 5 years. Replacements are sent after 3 years. |
| What Happens if I Lose Power | System has approximately 30 hours of battery backup. |
| Is the Watch/Button Waterproof | Yes |
| How Can The Button Be Worn | Neck and wrist alert button options. Can choose both when ordering, and a second button comes free. |
| UL Certified Equipment | Yes and FDA registered |
| Does The System Automatically Test Itself To The Monitoring Center | No. You can test the system as often as you wish though, and MobileConnect allows you to set-up free equipment status alerts. |
| 24 Hour Technical & Customer Support | 24-hour emergency support is available. Customer Support is available 8:00 AM – 8:00 PM EST on weekdays. |
| Monitoring Station | MobileHelp Review |
| TMA Five Diamond Certified Monitoring Center | No, and also not company owned or managed. Although not TMA five diamond certified, Rapid Response monitoring received the 2016 Central Station of the year award. |
| Typical Response Time When Button Pressed | Average response time of 17 seconds. |
| Other Options & Information | MobileHelp Review |
| How Fast Does System Ship | Ships same day if received and processed by 2:00 PM EST. |
| Do You Need Separate Systems For Mom & Dad | No, but you can add an additional standard button for $2.00 per month with the MobileHelp Classic system or you can add MobileConnect Premium and get the 2nd button for free. |
| Optional Advanced Features | MobileHelp Review |
| Activity or Inactivity Monitoring | Yes, with MobileConnect Premium utilizing the MobileHelp Fall Button for an additional $5.00 per month. |
| Senior Fall Detection | Yes, available to be paired with all subscriptions, MobileHelp Classic, MobileHelp Duo or MobileHelp Solo, for an additional $10.00 per month, utilizing the MobileHelp Fall Button. |
| Cellular or No Phone Line | Yes |
| Smoke or Carbon Monoxide Protection | No |
| GPS Medical Alert Tracking System | Yes, with MobileHelp Duo, MobileHelp Micro & MobileHelp Solo (any package that includes the Mobile Device). |
| Special Offers | MobileHelp Review |
| Special Offers For Our Visitors | None at this time. |
EQUIPMENT CHARGES & REPLACEMENT COSTS
Most equipment options are free as long as you are an active subscriber and no activation charges. Shipping is free for most systems.
Replacements are shipped free for defective equipment and battery replacements. Optional $6.00/month equipment protection plan (called MobileConnect Premium) for damaged or lost equipment, that could cost anywhere between $54.95 to $300.00 to replace without it. They do require a $20 deductible for a base station or mobile portable device. No deductible required for the help buttons.
MOBILEHELP COST & FEES
MobileHelp is quite affordable compared to other medical alert companies on the market, especially for their Cellular Classic system. Most companies charge a premium for a cellular based service. Keep in mind they only offer the price lock fee for the Cellular Classic system. MobileHelp has a few payment options, bundles and services to choose from which can be confusing. They offer free ground shipping for most systems. MobileHelp also has fashion jewelry pendant options starting at $69.95 if you would like to disguise your pendant as a piece of jewelry! We were advised they offer promotional rates for most plans if you call in, so don't order online. Call in for their best rates.
Please see the outline of their current payment pricing options below.
The MobileHelp Cellular Classic system monthly cost is $19.95 per month with a one-time price lock fee of $49.95, if you are paying monthly (this is a current promotion and the regular rate is $34.95 per month). It is $32.95 per month if you pay quarterly, $29.95 if you pay semi-annually or annually. We were told to always call in for the best rates. Add automatic fall detection for an additional $11.00 per month.
MobileHelp Wired Home is $24.95 per month. Advanced payment discounts are $22.95 per month when paying semi-annually or annually.. There is no option to add fall detection with this system.
MobileHelp Touch Class is $54.95 per month when paying monthly, and $49.95 per month when paying semi-annually or annually. Add automatic fall detection for $11 per month.
The MobileHelp Solo system monthly cost is $37.95 per month. Advanced payment discounts include $34.95 per month if paying quarterly, $32.95 per month if paying semi-annually or annually. Free shipping is available with all the advanced payment options. Add automatic fall detection for an additional $11.00 per month.
MobileHelp Micro is $39.95 a month when paying monthly. If you pay quarterly, the monthly cost is $37.95, if you pay semi-annually, the cost per month is $33.95 and it is $31.95 per month if you pay annually. Automatic fall detection is included with this price.
The MobileHelp Duo options is the best value as it combines MobileHelp Cellular and Solo system options. The monthly cost is $41.95 per month. Advanced payment discountsare $38.28 a month if you pay quarterly, $34.86 per month if you pay semi-annually or $32.78 if you pay annually. . Add automatic fall detection for an additional $11.00 per month.
For the Mobile Duo you can choose to pay $44.95 per month, $41.28 per month if you pay quarterly, $37.86 if you pay semi-annually or $35.78 if you pay annually. Add automatic fall detection for an additional $11.00 per month.
The Mobile Touch Duo will cost you $54.95 per month if you pay monthly, and $49.95 per month if you pay semi-annually. Add automatic fall detection for an additional $11.00 per month
WHAT WE LIKE ABOUT MOBILEHELP
OEM Manufacturer with the Latest Technology – MobileHelp not only provides medical alert services, it also manufactures and sells its equipment to other medical alert companies. Because many of its competitors trust their equipment for their own customers, you can be further assured that your system has been time-tested and is the latest technology available.
Cancel at Any Time Policy – If you are not happy with your system or service, you can cancel and get a refund if it is within 30-days or a partial refund for unused months of service paid if it is longer than the 30-day trail period.
Cellular Option – Most of their subscriptions are cellular based in case you are without traditional land-line phone service. Please note, you must have AT&T cellular coverage available in your area.
MobileHelp Smart – Built-in 2-way speakerphone, GPS, wireless charging, 1.3" screen size (Samsung S3), emergency button can send an alert and location to the monitoring center easily when pressed, watch supports health and activity apps, no cellular contract required, test button for simple testing.
Fall Detector Option – MobileHelp offers automatic fall detection as an add-on feature for most of their service options. Fall detection comes in handy for all seniors who tend to fall or to faint. The button will detect a fall and automatically place an emergency call into the monitoring center for you.
Mobile GPS Option– (Available with MobileHelp Duo or MobileHelp Solo utilizing the Mobile Device). For seniors or even young children on the go, this location tracking option may be important for you.
Location Services – (Available with MobileHelp Duo or MobileHelp Solo utilizing the Mobile Device) An online mapping service that allows your family members and those with whom you have a friendship to see where the Mobile Device is at any given time, within approximately 10 feet. This mobile system can be useful for family members concerned about your location or if you misplace the mobile device.
Activity Monitoring – (Available option with the MobileHelp Fall Button) Activity monitoring typically requires the user to check in with the system by pressing a button once every 24 hours. However, MobileHelp has automated this service using information from the accelerometer located inside the Fall Button. Activity can be seen on the MobileConnect portal for a 3-month time span, so you can see trends in activity levels. This is very beneficial as it allows you to know that your loved one is active and about each day.
Medication Reminders – (Available with MobileHelp Classic, MobileHelp Duo, and Mobile Touch for an additional $5.00 per month) Having the alert device system remind you of when to take medication is a nice feature, although not required by all. Many of these services have the main unit console provide some sort of beep reminder on regular intervals to remind you of when to take your medication. With most other competing services, the downside to this option is that it will not tell you what or how much medication to take. However with MobileHelp, using the MobileConnect portal, you can type the names of medication or descriptions of what the medications look like (for instance "oval yellow pill") and dosage information that will display on the Base Station in your home.
Advanced Payment Discounts – The convenience of quarterly or annual payments can be desirable, especially if you can receive a discount and other free perks such as free shipping.
Choice – With several different medical alert systems to choose from, MobileHelp has a medical alert offering for almost anyone who is looking.
WHAT WE DISLIKE ABOUT MOBILEHELP
Equipment Replacement – If a defective or dead battery is not the problem, it can be expensive to replace equipment if you don't subscribe to their MobileConnect Premium service. And even with this service, a deductible is required for everything except the pendant buttons.
No TMA Five Diamond Certified Monitoring Center– This is an important certification that requires an annual renewal with The Monitoring Association which shows a commitment to a higher level of service. We highly suggest this certification to ensure you are getting a top-of-the-line monitoring service. Also, they do not own their monitoring center.
No Smoke & Carbon Monoxide Options – With such a complete service offering, we would have liked to have seen monitored smoke and carbon monoxide detectors offered, although they may be subject to local building code requirements.
No Automatic Tests- System's console will not automatically test periodically to the monitoring station. You will have to manually test the system.
WHAT PEOPLE ARE SAYING ABOUT MOBILEHELP
MobileHelp has thousands of positive reviews online which is a great sign of customer satisfaction. Reoccurring positive reviews seem to feature their affordable services and friendly customer service.
Currently, there are 41 complaints on file with the BBB however the complaint details are not available to view. The only negative complaints we found were some had trouble with the GPS-based systems getting a signal. It is important to note that you need AT&T cellular coverage available in your area to utilize their equipment. We did read about one user having multiple false alarm calls which is a common complaint when using automatic fall detection.
Overall, users seem happy with the customer service and are thankful for MobileHelp's response in an emergency situation. We encourage you to read MobileHelp's reviews online as well as competitors such as Medical Guardian reviews.
MobileHelp is a Better Business Bureau accredited business and has an A+ BBB rating at the time of this review. This signals that MobileHelp cares about their customer satisfaction since they are responding to customer complaints and maintaining a high satisfaction score.
FREQUENTLY ASKED QUESTIONS (FAQ)
Do I need more than one MobileHelp system in my household for my spouse?
No, but you will need an extra button for your loved one at an additional cost of $20 per month.
Does MobileHelp have medication reminders?
Yes, MobileHelp offers a service that will send reminders through your base station. You can sign up through their MobileHelp Connect.
Are MobileHelp button's waterproof?
All of MobileHelp's medical alert device buttons are water-resistant and are designed to be worn in the shower or bath. However, they should not be submerged in water for long periods of time.
Does MobileHelp offer advanced payment discounts?
Yes, if you choose to pay quarterly, semi-annually, or annually, you will receive a discount.
DO WE SUGGEST MOBILEHELP?
Although MobileHelp is not a household name, we feel MobileHelp is a solid mobile alert system choice in the medical alert industry to consider when making your decision. They have professional, knowledgeable staff who answered all of our questions. They also have a handy, live chat option on their website to answer your questions if you do not feel like calling in.
They have many service options to choose from along with the latest technologies in the medical alert industry, including Voice Activating Help Button for 24/7 help without the need to wear a pendant.
We really like their Medication Reminders option because it can provide names and dosages right on the base station's display. MobileHelp does offer the medication reminders initially free in their bundle packages but note that the "free price" only applies to the first billing cycle of any plan that you select. If you are looking for a traditional medical alert system, MobileHelp might not be for you. Their pricing structure can be confusing at first glance. We suggest calling them to have a customer service rep walk you through the process.
We also prefer companies in the medical alert industry that own and operate monitoring centers that are TMA Five Diamond Certified. That being said, MobileHelp is an excellent choice if you want a company that offers a well-rounded full suite of medical alert monitoring options including automatic fall detection and location tracking with GPS. We love that they do not require long-term contracts and their monthly plans are quite affordable.
When we called MobileHelp to gather more information, we did receive a big sales push which is not unique in the industry, and were offered several discounts and specials over the phone. They did not ask for personal information, so it would benefit you to call and see what kind of special they are offering at the moment.
Although our experience with this company had these results, your experience may be different. If you're interested in this company's services, contact them to judge for yourself.