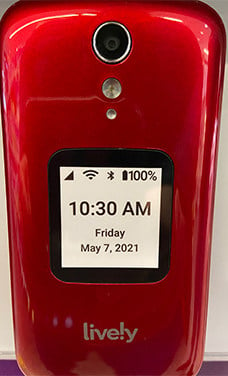 WHO IS LIVELY (FORMALLY GREATCALL)?
Lively (formally GreatCall) is a medical alert system provider that ties most of their services in with smart phone use, and even provides Jitterbug smartphones and call plans for seniors. They have been in business since 2006 and they claim to be the original easy to use senior friendly cell phone and market to active aging adults. This is a pretty modern option compared with other medical alert services which mainly focus on stand-alone equipment reserved only for medical alert use. Currently, they have over 900,000 subscribers and all of their customer service is U.S. based.
In December of 2015, GreatCall acquired Lively which is a connected health platform that does have more traditional stand-alone medical alert devices but with advanced features and a modern look for active seniors who are looking for emergency response protection. Lively is now the name that the company goes by. They also have a suite of healthy, medical and safety apps for seniors and caregivers. Their monitoring call center agents are called Urgent Response Agents. Lively is headquartered in Carlsbad, CA and employees over 1,000 people.
Some of Lively's services, using their well-known 5Star Urgent Response, require only a smart phone and you can even use your existing smart phone with their medical alert cell phone app. The equipment they offer is modern-looking, and their sales reps are not overly pushy. We like the fact that they have all of the latest technology with no phone line (cellular), GPS, activity monitoring, medication reminders, and fall detection options.
In August 2018, GreatCall was acquired by Best Buy. Best Buy is one of the major big box stores that have been investing in technology for the aging population and will have the resources to market and sell GreatCall's products in their stores. In addition to Greatcall, Best Buy is investing in other home health products such as TytoCare which is technology that helps to manage your family's healthcare at home such as personal EKG monitors, smart thermometers and an at home medical exam kit for online doctor visits.
Lively will keep their headquarter location and call centers in Carlsbad, CA and Reno, NA.
REVIEW SUMMARY
There are four mobile medical alert system products that Lively offers (they have several other legacy options, but only actively promote these four personal emergency response systems on their website). Please note, you will have to have Verizon cell coverage in your area to use their service (you do not have to have a Verizon data plan to utilize their urgent response service).
1. Lively Mobile Plus: Their most basic medical alert device that boasts fast response times. With Lively Mobile Plus, no landline or other equipment is required, and you can speak directly through the device to emergency help. The device is waterproof and available with optional fall detection utilizing accelerometer technology. The latest edition includes enhanced GPS technology, 4G LTE integration, improved battery life and loudest amplified speaker to date.
2. Lively Wearable2 : Just one push of a button, you will be connected to Lively's emergency response team through an app on your smartphone. This means your loved ones will need a smartphone as the device connects to your phone's Bluetooth to activate. Essentially, this option turns your smart phone into an emergency response device. You can wear the button on a lanyard around your neck or on your wrist. The button is water resistant and can be worn in the shower. A smart phone with cellular service is required and make sure you have an Android 7.0/iPhone iOS 11 or later operating system (this device uses Bluetooth, data, and GPS location from the smartphone). When you push the wearable medical alert button, your smartphone will automatically call an urgent response agent. Fall detection is included when you purchase the preferred plan, which is similar to other life alert reviews of other types of products. The button is also stylish and water resistant. The latest version also includes a daily step counter and health tips for seniors.
3. Jitterbug Smart3: Cellular smart-phone with service that provides a mobile medical alert through an App. This mobile technology features a large 6.2" screen, large icons, simplified menu and text, long-lasting battery, voice typing, video chat and urgent response app. You will get help in all types of emergencies by pressing the Urgent Response button. There are other new app features such as speaking to a board-certified doctor or nurse, a brain games app, and ordering a car service.
4. Jitterbug Flip2: Cellular flip-phone with mobile service that provides a medical alert with a button on the phone. This is an easy-to-use option when you need a simple phone with emergency help built right in. It features bigger buttons, a large bright screen, powerful speaker, voice dial and magnifier with flashlight. As a new feature, you can speak to a doctor or registered nurse 24/7. It also has built-in Amazon Alexa technology and an 8MP camera built in.
PROS
Some Lively (formerly GreatCall) reviews point to multiple benefits and options for seniors and their family members to consider, including: Automatic activity monitoring option, detailed medication reminder option, equipment status alerts, automatic fall detection, multi-lingual customer service help, refunds for unused weeks of service, no landline required, 24-hour emergency support, no long-term contracts, no cancellation fees, and modern-looking equipment.
CONS
Lively reviews found here and elsewhere note a few disadvantages to the systems for you to consider, which include: Equipment charges and activation fees, no reimbursement for equipment if you cancel after 30 days, no advanced payment discounts, some of their services require that you have a smart phone and Verizon network coverage in your area, their monitoring centers are not TMA Five Diamond certified and they do not offer smoke detection or carbon monoxide monitoring options.
RATING:
SINCE YOU'RE LOOKING AT LIVELY, CONSIDER TAKING A LOOK AT BAY ALARM MEDICAL FOR COMPARISON.
COMPARE DEVICE FEATURES:
PROS & CONS TO CONSIDER

How did Lively GreatCall do?

Price

Lively GreatCall Review

Cost for Equipment
Cost of equipment starts at $49.99 for the Lively Mobile Plus option and goes up. Each device will also have a one-time $35 activation fee.
Cost Per Month
Lively Wearable starts at $24.99 a month.
Advance Payment Discounts
None
Monitoring Agreement Term
30-day risk free trial period. No long-term contracts – month to month only. You will also receive a refund for any service prorated from the day you call to cancel. Â No equipment reimbursement after 30 days – the equipment is yours to keep.
Repairs or Replacement Charges
No. Replacements shipped free for defective equipment (all equipment has a 1-year warranty). Optional $3.00 to $4.00 per month equipment protection plan depending on your device. Product replacement for damaged or lost equipment could cost anywhere between $49.99 to $149.99 to replace without a protection plan. The protection plan does have a deductible ranging from $15.00 to $50.00 depending on your device.
Cancellation Policy & Discounts

Lively GreatCall Review

Cancel at Any Time
Yes
Senior Discount
None
Other Discounts
AARP exclusive discount (currently save $60 on preferred or ultimate packages)
Equipment

Lively GreatCall Review

Approximate Button Range in Typical Home
The only product of Lively's that has any range requirement is their Lively Wearable, which must be within 150 feet of your smart phone to be able to work.
Watch/Button Battery Life
We could not get a battery life estimate for the Jitterbug Smart or the Jitterbug Flip but expect them to be similar to a normal mid-grade cell phone. No battery replacements are provided.

On the website, it says you can expect about 24 hours of standby time in-between charges for the Lively Mobile Plus, but we were told it will depend on cell service strength in your area, how often you charge the device, how long you charge your device, and even the ambient temperature where your device is mostly used. No battery replacements are provided for the Lively Mobile Plus either. You must purchase a new device.

The battery for the Lively Wearable lasts about 6 months and does not require charging. The app will alert you when it's getting low. However, you must purchase your own replacements (uses a watch-style coin battery) and install them yourself.

What Happens if I Lose Power
It depends on the device you have, when you last charged it, and how much you use it. Maximum battery life for the Lively Mobile Plus is 24 hours.
Is the Watch/Button Waterproof
Yes, the Lively Mobile Plus and Lively Wearable2 are waterproof.
How Can The Button Be Worn
Neck, wrist and belt clip options available for the Lively Mobile Plus or the Lively Wearable2. When you order over the phone, they will include both the lanyard and the wristband for free.
UL Certified Equipment
Yes
Does The System Automatically Test Itself To The Monitoring Center
No. You can test the system as often as you wish though, by logging onto lively.com and sending a test call to your device. You can also press the call button and wait for an agent to respond, and just let them know you are making a test call.
24 Hour Technical & Customer Support
24-hour emergency support is available. Customer Support is available 6:00 AM – 7:00 PM PST Monday through Saturday.
Monitoring Station

Lively GreatCall Review

TMA Five Diamond Certified Monitoring Center
No, but they are NAED (National Academy of Emergency Dispatch) certified, which is the same certification as 911 operators.
Typical Response Time When Button Pressed
Average response time of 5.3 seconds.
Other Options & Information

Lively GreatCall Review

How Fast Does System Ship
Equipment will ship the next business day after you order. Free ground shipping takes 3-7 business days to arrive.
Do You Need Separate Systems For Mom & Dad
Yes
Optional Advanced Features

Lively GreatCall Review

Activity or Inactivity Monitoring
Yes, with the Lively Wearable and their HealthSense Activity Monitoring solutions (motion detection throughout your home).
Senior Fall Detection
Yes, available on the Lively Mobile Plus.
Cellular or No Phone Line
Yes. All of their equipment options are cellular-based.
Smoke or Carbon Monoxide Protection
No
GPS Medical Alert Tracking System
Yes, with all of their equipment options.
Special Offers

Lively GreatCall Review

Special Offers For Our Visitors
None at this time.
MONTHLY COSTS & FEES
GreatCall System
Equip Fee
Act Fee
Basic
Plan
Preferred
Plan
Ultimate
Plan
Unltd
Text/Talk
Unltd
Text/Talk/
Data
Lively Mobile Plus
$49.99
$35.00
$24.99
$29.99
$39.99
N/A
N/A
Lively Wearable2
$49.99
$35.00
$24.99
$29.99
$39.99
N/A
N/A
Jitterbug Smart3
$149.99
$35.00
$19.99
$24.99
$34.99
$19.99*
$49.99
Jitterbug Flip2
$99.99
$35.00
$19.99
$24.99
$34.99
$19.99
N/A
*Data Plan Required
Jitterbug Smart3 & Jitterbug Flip2 Phones
Great Call phone plans that include talk and text packages are separate charges and are available in a variety of size options. There is also an unlimited text, talk and picture messaging plan available. Besides the costs shown above, each has a $35.00 activation fee.
In order to use the Great Call phones like the Jitterbug Smart3 with the Health and Safety packages, you must purchase a data plan and there is one available with unlimited text, talk, and data as well.
Health and Safety Packages
There are three different levels of Health & Safety Package monthly service options for the Lively Mobile Plus and Jitterbug Smart3.
1. Basic: Includes their 5Star Urgent Response service.
2. Preferred: Includes their 5Star Urgent Response service, their Lively Link service, which allows caregivers and family members easy access to updates and information on your well-being and location, and their Urgent Care service, which allows you to speak directly with doctors and nurses, and even get prescriptions over the phone.
3. Ultimate: Includes their 5Star Urgent Response service, their Lively Link service, their Urgent Care service, and an equipment protection plan. In case a device is lost or compromised, a replacement will only have the cost of a small deductible. This Ultimate Health and Safety subscription service also includes fall detection on the Lively Mobile Plus device.
WHAT WE LIKE ABOUT LIVELY
Reasonable Service Rates – Lively has competitive rates for both their Lively Mobile Plus and their cellular service when paired with their 5Star Urgent Response.
Cancel at Any Time Policy – No long-term contracts, you can cancel at any time. If you are not happy with your service, you can cancel and get a refund for unused weeks of service paid. However, you will not get a refund on the equipment charges, but you do not have to return the equipment either.
24-Hour Support – Emergency only support is available 24 hours per day.
Cellular Option – All of their subscriptions are cellular based in case you are without traditional land-line phone service.
Fall Detector Option – (Available with the Lively Mobile Plus and the Lively Wearable) Since some diabetics can have the tendency to faint and falls are common among seniors, fall detectors can be helpful because the user may be unable to press their medical emergency button.
Mobile GPS Option – For seniors or even young children on the go, this GPS technology may be an important option for you. The GPS can track your loved one's location and send help exactly where they are when they need it.
Location Services – Available with all Preferred and Ultimate Health and Safety service levels with the Lively Link app. This allows authorized users to check your location at any time, as many times per day as needed.
Activity Monitoring – (Available with the Lively Wearable2) Activity monitoring typically requires the user to check in with the system by pressing a button once every 24 hours. Lively utilizes the latest automatic activity tracking technology, and even lets you set goals and alerts you when you have reached them throughout the day. Activity can be seen on the Lively Link app. This is very beneficial as it allows you to know that your loved one is active and about each day, which can provide greater peace of mind.
Medication Reminders – (Available with the Jitterbug Smart3 and the Jitterbug Flip2) Having the system remind you of when to take medication is a nice feature, although not required by all. Many of these services have the main unit console provide some sort of beep reminder on regular interval to remind you of when to take your medication. With most other competing services, the downside to this option is that it will not tell you what or how much medication to take. Lively gives more detail, allowing you to enter in medication information online on mylively.com, and set-up reminders to be sent directly to your Jitterbug Smart2 or Jitterbug Flip.
Multi-Lingual Help – If you need to communicate in a language other than English, they have multi-lingual representatives available in 100 languages.
WHAT WE DISLIKE ABOUT LIVELY
Equipment Charges– All of Lively's equipment options require a one-time activation fee and an equipment free upfront. Verizon needs to be available in your area to use their services. If you read a Medical Guardian review, you will notice other medical alert companies do not charge for some or all of their equipment options.
Equipment Replacement – If your battery is dead, you either have to replace it yourself, or more commonly, buy a whole new device. A deductible is required even if you have the Product Replacement plan. You also cannot return any equipment for any equipment refund after 30 days.
No TMA Five Diamond Monitoring Center– This is an important certification that requires an annual renewal with The Monitoring Association which shows a commitment to a higher level of service.
Equipment Battery Life – The Jitterbug phones and Lively Mobile Plus need to be charged daily. This may be hard for some seniors to remember. When the battery wears out on any of their devices, you must buy a new device (or with the Lively Wearable, purchase and install a new watch-style coin battery).
No Advanced Payment Discounts- We feel that advanced payment discounts should be offered when you pay for services up front.
No Carbon Monoxide or Smoke Detection– Both are important features to have in your home and Lively does not have these options.
FREQUENTLY ASKED QUESTIONS (FAQ'S)
How do I cancel Lively's (formally GreatCall) services?
You can cancel Great Call service any time. Call Lively's customer service to cancel at 1-800-733-6632.
What carrier do Jitterbug phones use?
Great Call phone service runs on Verizon's cellular network. It is important to have Verizon coverage in your area, to be in the Great Call service area.
Can I keep my phone number with Lively?
Yes, Lively allows you an option to retain your current cell phone number. However, your number will have to still be available at the time you make the request.
What is the monthly fee for Lively's services?
Check out our Monthly Costs & Fees section for a detailed breakdown of Lively's monthly fees.
Is Lively Mobile Plus waterproof?
Yes, you can wear your pendant in the shower.
How can I pay for Lively's services and products?
Like most medical alert systems, Medicare and Medicaid do not cover Lively's services or products. However, you might be able to use healthcare flexible spending money towards your Lively's costs.
It is important for you to know if you live in a state that has filial responsibility laws. Filial responsibility means that it is the adult child's duty to support their parents financially. This can mean that you are responsible for paying any debt that occurs after your loved one passes away. There are currently 30 states that have filial responsibility laws.
WHAT OTHERS ARE SAYING ABOUT LIVELY
On Lively's website you can read about their accolades and product reviews from published news sources. These Lively reviews include claims like: "Lively (GreatCall) is the perfect accessory for active seniors."
In doing our research and looking for unbiased reviews direct from consumers, we found mixed reactions on Amazon. Some wrote how the product truly worked for them in an emergency situation and that the call response time was quick. Other reviewers claimed the medical alert device caused many false alarms and it was difficult to call and cancel Lively's services. We found many negative reviews on Yelp from consumers who felt the product was great, but the company was hard to deal with and their customer service was lacking. Lively does respond to the negative Yelp reviews so they can help resolve any customer issues. The Jitterbug Smart reviews focused on how easy it is to read the text on the Great Call cell phone screen and that the phone is very easy to use. Others commented on how affordable the monthly data plan is. The Jitterbug Flip reviews mentioned that the call quality is good and the volume is loud, which is helpful for those who are hearing impaired.
Lively is a Better Business Bureau accredited company with an A+ rating at the time of this review. They have an average of 104 customer complaints on file.
BOTTOM LINE
If you're looking for a basic medical alert button or a traditional landline in-home medical alert system, then Lively may be more than you need. However, if you are looking for Great Call phones for seniors, then Lively is a great option. They offer the latest medical alert technology including automatic activity monitoring, medication reminders that provide names and dosages, no phone line cellular options, and fall detection as well. If you are looking to turn your aging loved one's cell phone into a medical alert device as a great low-cost option, then Lively Wearable is perfect for you. Perhaps you are looking for a senior friendly smart or flip phone that can act as an emergency response device? Lively has you covered for any of those options as well.
Their equipment (especially the Lively Wearable) is extremely modern looking. If you are a caregiver, then Lively is a good choice with many monitoring options available for you to more easily care for your loved one. We love that they offer automatic fall detection, activity monitoring and pill reminders options. We do prefer to see a monitoring center that is TMA Five Diamond Certified. TMA Five Diamond Certified monitoring center customer care reps are continually trained, which means they can provide information and instant emergency response when you need it. They also ask you to pay equipment charges that a lot of other medical alert companies have done away with, but typically only on their more basic systems. Many do still require them on their more advanced equipment offerings.
If you're in the market for a basic cell phone for your mom or dad, then the Jitterbug Flip2 could be your best mobile medical alert device option. It's simple for most seniors to use and includes the 5Star Urgent Response button right on the phone.
Out of all of our different life alert reviews for systems available to seniors, we've had mixed call experiences with Lively when performing reviews. On one call their customer service representative was helpful and not pushy, on another call we had the complete opposite experience. Now that Best Buy has bought Great Call, you can find their products in their stores as well as certain Sears, Rite Aid, and Walgreen's stores. They also currently sell through Amazon. Check their website to find a store near you if you do not want to purchase directly online through their website. We recommend giving Lively a call if you are in the market for one of their senior-friendly medical alert products.
Although our experience with this company had these results, your experience may be different. If you're interested in this company's services, contact them to judge for yourself.
*Lively Logo is a registered trademark of the Lively company