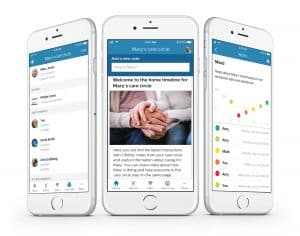 Families have been turning to the Philips company for years for assistance in caring for aging family members. Recently, Philips Lifeline has launched an app called Philips Cares. Read our Medical Guardian reviews to compare systems with Philips Lifeline. Let's learn how this app can assist those who are caregivers of an aging family member.
Philips Cares Works as a Communication Hub
First, everyone involved in the caregiving of a senior citizen who has Philips Lifeline service can have access to the app. This may include family members, neighbors or close friends, and hired caregivers. Whoever interacts with the senior on a daily or weekly basis will be able to communicate directly with those who are concerned about the health and wellbeing of the senior.
Philips Cares is Available to Anyone With the Lifeline Personal Alert Service
Second, as a caregiver, you'll be notified when your mom or dad required assistance. All interactions with the Lifeline service are shown in the newsfeed of your Philips Cares account. You will be able to see the reason for the alert so that you can determine your next course of action easily.
Know if Your Loved One's Lifeline Device is Working
Third, by utilizing Philips Cares, you will be able to determine if the Philips device that your loved one is wearing is fully functioning. Everyone who is part of your senior's Care Circle will receive notice when it is time for routine any maintenance on the alert button.
Philips Cares does not only allow you to learn about emergencies involving your loved one. Members of the family who are a part of the Care Circle can add and share notes about the day-to-day activities of your loved one. All involved can learn about your loved one's appetite, mood, and information regarding his or her general welfare.
Gain Access By a Smartphone or PC
Finally, the Philips Cares app can be accessed through a smartphone or computer. This app works as a one-stop-shop for all account information. From there, you will be able to update emergency response plans and contact information. You will even be able to update your payment information through this convenient app.
The Philips Cares app is excellent for the day-to-day caregiver, but also those loved ones who live hours away from the aging family member. Instead of relying on those close by to inform you when your mom has another fall or when dad becomes confused at night, you will receive real-time alerts as well. Philips knows that even though you live far away, you are still extremely concerned about the daily activity of your loved one.
The Philips Cares app is available for download in several locations. Find it on the Apple and Google Play stores. You can also download the app from the Philips website. It is a free download for any Philips Lifeline customer, which allows your loved one to have 24/7 access to trained care specialists.
The Philips Cares app is a perfect companion for any Philips Lifeline customer. It's free with the service and works as a great communication tool for all caregivers.
It takes a village to care for aging family members. Let Philips assist you in this journey.