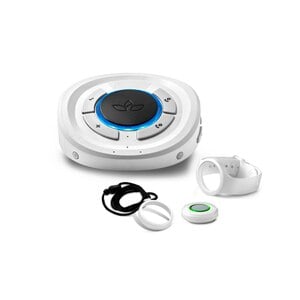 WHAT IS THE CVS SYMPHONY MEDICAL ALERT?
Consumer Value Store (CVS) Health is headquartered in Rhode Island and was founded in 1963. CVS is the largest pharmacy chain in the country.
CVS Health and Aloe Care Health have partnered to offer CVS Health Symphony, a new collection of connected in-home and wearable devices for older adults that enables their caregivers to monitor their status. The CVS medical alert program was previously handled by Connect America for many years and most recently was handled by Medical Guardian. CVS's medical alert website has very limited information on the Symphony line and service options.
You can only place your order for the medical alert device through the CVS website or you can visit one of their CVS HealthHUB locations as they do not have a customer service call center to purchase the Symphony medical alert service. The monitoring services and app are all provided by a third-party company called Aloe Care Health that is not owned or operated by CVS Pharmacy.
REVIEW SUMMARY
CVS Symphony Medical Alert offers a medical alert integrated in-home system.
These are the two bundle packages that are available to CVS Medical Alert customers:
Symphony Basic Bundle – This system comes with a voice activated Smart Hub that includes built-in motion detection along with temperature and air-quality sensors, and a wearable care button. The basic bundle also comes with a caregiving app for monitoring your loved one's wellbeing.
Symphony Essential Bundle – This system bundle also comes with one voice activated smart hub that includes built-in motion detection along with temperature and air-quality sensors, and a wearable care button. You also get a bathroom sensor that has automatic fall detection that works without you having to wear a fall detector and additional motion sensors that can be added throughout the home. The bundle also comes with a caregiver app that helps to monitor your loved one's daily activities.
Mobile Companion- This is an add-on service when you choose one of the bundles above. The GPS on-the-go button is a great option to take your medical alert monitoring service with you on the go. An additional monthly service fee is required.
Both systems come with a free caregiver app that allows loved ones to always monitor your well-being. The Symphony system comes with unlimited 4G LTE service for App-to-Smartphone check-in calls, although you are still responsible for any data costs from your own mobile device. The app has a group chat feature for unlimited caregivers to coordinate alerts for falls, motion detection, air quality level measurements – Volatile Organic Compound (VOC) and Carbon Dioxide (CO2) and temperature. You will also get emergency alerts and requests for check-ins. Please note you will need AT&T wireless network coverage in your area to use Symphony's products in the home.
The automatic fall detection that comes in the Essential Bundle creates a 3D map of the room it is in. You will calibrate the sensor with voice prompts during set-up. Once the 3D map is established, it can tell if the person in the room is sitting, standing or laying down. If it detects someone has been laying down for 1-2 minutes, it will send a voice prompt asking the user to stand. If it does not sense them standing up after one minute, a call will be made to emergency response team at the monitoring center, unless cancelled.
How it Works:
Select your Symphony bundle system
Activate your bundle online and subscribe to the monthly monitoring service (provided by Aloe Care Health)
Plug in the Smart Hub to a central location in your home and add additional sensors throughout the home
Test your device for added peace of mind
PROS
No required long-term contract commitment. No phone line option, activity, temperature and air quality monitoring available, as well as an automatic fall detection option. are available. Monitoring center is TMA Five Diamond Certified.
CONS
CVS is a reseller of the service so they do not own and operate the monitoring center or provide the equipment. There is no pill reminder option and no carbon monoxide or smoke detection. There is an equipment fee and you will need AT&T wireless coverage available.
Key Features:
No-long term contracts
Out of home coverage available
Temperature and air quality monitoring
Caregiver app to help stay connected
24/7 emergency response from a TMA 5 Diamond certified monitoring center
Easy set-up
RATING:
SINCE YOU'RE LOOKING AT CVS SYMPHONY, CONSIDER TAKING A LOOK AT ALOE CARE HEALTH FOR COMPARISON.
COMPARE DEVICE FEATURES:
| | |
| --- | --- |
| PROS & CONS TO CONSIDER | How did CVS Symphony Medical Alert do? |
| Price | CVS Symphony Medical Alert Review |
| Cost for Equipment | Equipment fee starts at $99.99 for the Mobile Companion |
| Cost Per Month | Systems start at $29.99 per month. |
| Advance Payment Discounts | No |
| Monitoring Agreement Term | No contract. Cancel anytime. |
| Repairs or Replacement Charges | Replacement devices can be purchased separately, but the cost is dependent upon the device. |
| Cancellation Policy & Discounts | CVS Symphony Medical Alert Review |
| Cancel at Any Time | Yes |
| Senior Discount | No |
| Other Discounts | No |
| Equipment | CVS Symphony Medical Alert Review |
| Approximate Button Range in Typical Home | The Care button has a range of 200 ft from the hub. It is not meant to worn outside of the home. |
| Watch/Button Battery Life | The Care Button battery life is approximately 3 years. |
| What Happens if I Lose Power | System has back-up battery power and lasts between 4-6 hours. |
| Is the Watch/Button Waterproof | Yes, it is water resistant. |
| How Can The Button Be Worn | Neck or wrist medical alert pendant available |
| UL Certified Equipment | Yes |
| Does The System Automatically Test Itself To The Monitoring Center | No, but you can test the system at anytime. |
| 24 Hour Technical & Customer Support | Yes |
| Monitoring Station | CVS Symphony Medical Alert Review |
| TMA Five Diamond Certified Monitoring Center | Yes, but not company owned. |
| Typical Response Time When Button Pressed | Approximately 30-45 seconds |
| Other Options & Information | CVS Symphony Medical Alert Review |
| How Fast Does System Ship | Ships between 7-10 business days. |
| Do You Need Separate Systems For Mom & Dad | There is no additional cost per month to add a second pendant. Both users would be able to use the system however, only one user profile can be created. There is a one-time cost for an additional pendant. |
| Optional Advanced Features | CVS Symphony Medical Alert Review |
| Activity or Inactivity Monitoring | Yes |
| Senior Fall Detection | Yes |
| Cellular or No Phone Line | Yes |
| Smoke or Carbon Monoxide Protection | No |
| GPS Medical Alert Tracking System | Yes |
| Special Offers | CVS Symphony Medical Alert Review |
| Special Offers For Our Visitors | None at this time |
MONTHLY COSTS & FEES
CVS Symphony Medical Alert system has similar costs and fees as if you purchased directly from Aloe Care Health. You can purchase the CVS Health Symphony Basic Bundle and add additional items such as extra motion sensors or an extra care button but it would be more economical to purchase the CVS Health Symphony Essential bundle. The Essential bundle includes all the add-ons mentioned above as well as a fall detection sensor for the bathroom. The Mobile Companion can be added to either bundle for an additional monthly cost. The system ships free if you have a CVS CarePass or on orders over $35 which would be the case for both bundles. The monthly prices are competitive however the equipment fees are on the higher end of the market.
| | | |
| --- | --- | --- |
| CVS Medical Alert System | Cost For Monthly Payments | Equipment Fee |
| Basic Bundle | $29.99 | $149.99 |
| Essentials Bundle | $34.99 | $249.99 |
| Mobile Companion | $14.99 | $99.99 |
WHAT WE LIKE ABOUT THE CVS SYMPHONY MEDICAL ALERT
Reasonable Service Rates – CVS Health Symphony medical alert system has competitive rates especially considering all it includes, such as activity monitoring, fall detection and their Family App.
Cancel at Any Time Policy – No long-term medical alert monitoring contracts. If you are not happy with your emergency alert system or service, you can cancel anytime.
Activity Monitoring – Activity monitoring can be extremely useful if you are worried about your loved one having an active lifestyle or just need to monitor their day-to-day actions. Symphony's sensors detect motion in the home and you can monitor them with the Family App.
24-Hour Support – Emergency only support is available 24 hours per day.
No Landline or WiFi Required – Symphony gives options if you do not have WiFi in your home and it also does not require a landline.
Fall Detector Option – The Symphony Essentials Bundle comes with a non-wearable Smart Fall Sensor for the bathroom which uses wearable-free technology. Since falls are so common among seniors, having automatic fall detection can be life-saving. Monitoring fall trends can give family members better information to relay to their loved one's physicians too.
TMA 5-Diamond Monitoring Center – Their monitoring center is UL Listed as well as TMA Five Diamond Certified. This means that their reps go through more rigorous testing and are spot checked for their level of service. It also means that the monitoring center maintains required back-up power systems, redundant monitoring equipment, and communication channels. Please note that the monitoring center is not owned by CVS and is provided through Aloe Care Health's monitoring partner.
Home Temperature Checks – CVS Health Symphony includes built-in sensors that detect the temperature in the home and can alert you of unsafe temperature levels.
WHAT WE DISLIKE ABOUT THE CVS SYMPHONY MEDICAL ALERT
No Pill Reminder Option – Having the system remind you of when to take medication is a nice feature, although not required by all. Many of these services have the main unit console provide some sort of beep reminder on regular interval to remind you of when to take your medication. The downside to this medical monitoring option is that it will not tell you what or how much medication to take.
No Carbon Monoxide or Smoke Detector Options – Although this is not an essential feature for a medical monitoring company to offer, all seniors should have these items installed in their home. However, the CVS Health Symphony System does offer air quality monitoring of VOC and carbon dioxide levels.
Short In-Home Button Range – The in-home pendant works up to 200′ from the hub which means you cannot wear it outside in the garden or porch. Competitors on the market have a much longer range.
No Advanced Payment Discounts – Advanced payment discounts can help make medical monitoring services more affordable.
Does Not Offer Multiple Profiles For Spouses – Although you can get a second alert button for a spouse who lives in the same home, they currently cannot set-up a separate profile with specific information on each user.
FREQUENTLY ASKED QUESTIONS (FAQ)
Does CVS have medical alert bracelets?
CVS does sell Medical ID jewelry but they are not part of a medical alert monitoring system. If you are looking for medical alert monitoring, their new CVS Health Symphony system would be right for you.
Does CVS sell Life Alert?
CVS does not sell Life Alert but does sell its own product called Symphony. It's an advanced medical alert system with fall detection and a caregiver App.
Can I use CVS Health Symphony if I don't have a landline?
The Symphony system does not require a landline in the home to utilize their system.
Can my spouse also use CVS Health Symphony systems and devices?
Yes, there is no additional monthly charge for your spouse to use the system. There is a one-time charge for the additional pendant.
How much is the CVS Health Symphony System per month?
The Basic Bundle package starts at $29.99 per month.
Does CVS Health Symphony have automatic fall detection?
Yes. With the Essential Bundle you will receive a Smart Fall Sensor for the home.
CVS Symphony vs. Life Alert
Both CVS Symphony and Life Alert have an in-home medical monitoring system and an optional mobile with GPS option. Life Alert doesn't charge an equipment fee like CVS Symphony does, however they do have a one-time setup fee which is similar in price. The monthly fee for Life Alert is much higher than CVS Symphony's monthly fee. Life Alert also has a 3 year contract term where CVS Symphony does not require a contract. Both offer free shipping and a smartphone caregiving app.
WHAT OTHERS ARE SAYING ABOUT CVS SYMPHONY MEDICAL ALERT
The CVS Symphony medical alert website currently shows 8 reviews that range between 4 and 5 stars. The customer raved about not having to wear an "ugly necklace" around the house. This user has epilepsy and the Symphony System saved her life after a scary fall. The caregiver app is also a very helpful feature for this user. Since Symphony is new to CVS, online reviews are hard to come by.
CVS Pharmacy is not a BBB accredited business but has a F score at the time of this review. Aloe Care Health is not accredited or rated with the Better Business Bureau.
BOTTOM LINE
In the past, CVS medical alert devices have been provided by Connect America and then more recently by Medical Guardian. They now offer their own line called Symphony, which is powered by Aloe Care Health. We feel you should read more about Aloe Care Health's medical alerts by reading our Aloe Care Health review, before you make your final decision.
Once you purchase your equipment through CVS's website or directly from one of their HealthHUB's, all customer service and billing related information will be handled by Aloe Care's team.
The CVS medical alert website has limited information on it (compared to some of its competitors) and they do not have a customer service number to call to order the product. We also could not find a number to call for general customer service questions. If you're looking for more detailed information, we suggest visiting Aloe Care Health's support page for lots of product information or to call their customer service team directly for additional questions.
We do prefer companies who utilize TMA Five Diamond Certified monitoring centers, which is a plus for the Symphony system. We are also happy with the free caregiver app that comes with either Symphony bundle you choose.
Overall, if you are looking for a modern medical alert device with reasonable monthly costs and don't mind paying up front equipment fees, then the CVS Symphony service, powered by Aloe Care Health, could be right for you.
Although our experience with this company had these results, your experience may be different. If you're interested in this company's services, contact them to judge for yourself.