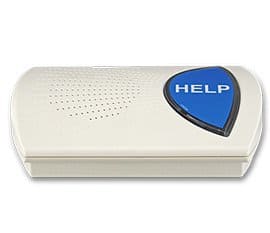 WHO IS MEDGUARD ALERT?
Per the Better Business Bureau's website, MedGuard Alert, Inc. has been in business since 2011. MedGuard purchased LifeWatch USA in 2017 and LifeWatch USA was started in 1996.
All of their customer service and medical alert monitoring centers are based in the USA and their medical alert products are UL/ETL listed. MedGuard's call center specialists are EMT trained so that you can have peace of mind they will know how to handle an emergency situation. They are headquartered in Middletown, CT. MedGuard Alert claims to have over 500,000 satisfied customers with their medical alert monitoring services.
REVIEW SUMMARY
MedGuard Alert's monitoring center representatives stay on the line until help arrives and offer comfort and advice during that time. Their monitoring equipment is UL certified however their monitoring centers are not TMA Five Diamond Certified. When you call MedGuard Alert, they will customize a monitoring plan for your aging loved one.
There are three medical alert systems that MedGuard Alert offers:
1. In-Home Medical System: This traditional medical alert system that can be used with or without a landline and offer VoIP options as well. The base unit has a range of500feet from the pendant if you are using the in-home landline system and 800 feet if you are using the in-home cellular system. The system has a 4-day backup battery in case of a power outage. The in-home cellular system does include automatic fall detection and the landline option does not.
2. Personal Alert GPS System: This system includes the SmartGo and the On-The-Go 4G LTE Medical Alert Device, which has a waterproof medical alert button designed to go with you anywhere and can be worn in the shower. It includes real-time GPS tracking too. The button is has a two-way voice speakerphone that will connect you directly with a live operator. It can be used anywhere within the U.S. or Puerto Rico. This system comes with automatic fall detection. . The button has a battery life of 3-4 days on a single charge and must be charged at least every two days.
3. Personal 4G Care Watch: The MedGuard 4G Care Watch is worn like a traditional watch and has a number of features, such as automatic fall detection. The watch will check vitals such as oxygen saturation, heart rate, and blood pressure. It also has an SOS button that when pressed, will connect you to emergency services. The watch has a built-in two-way speaker and will alert you when the battery is low. It also includes automatic fall detection.
PROS
Easy installation and no equipment fees. Three options to choose from including GPS tracking and automatic fall detection. Monitoring centers are company owned and the staff is EMT trained. All equipment is UL certified. No long-term contracts. Long back-up battery life. Periodic system tests performed.
CONS
No smoke or carbon monoxide detector options. No activity monitoring options are available. Not TMA Five Diamond Certified. They charge a re-stocking fee for returned equipment. They have multiple user complaints that can be found online.
MedGuard vs. Bay Alarm Medical
MedGuard and Bay Alarm Medical both offer a Smartwatch medical alert option. While both offer medical alert protection and run off 4G LTE, MedGuard's smartwatch has additional monitoring features such as blood pressure and heart rate. Bay Alarm also charges equipment fees and MedGuard does not. Bay Alarm's monthly pricing is slightly cheaper and does come with different bundling options which is something to consider. We also prefer that Bay Alarm Medical has a TMA 5 Diamond Monitoring Center.
RATING:
SINCE YOU'RE LOOKING AT MEDGUARD, CONSIDER TAKING A LOOK AT MEDICAL ALERT FOR COMPARISON.
COMPARE DEVICE FEATURES:
| | |
| --- | --- |
| PROS & CONS TO CONSIDER | How did MedGuard Alert – Lifewatch USA do? |
| Price | MedGuard Alert – Lifewatch USA Review |
| Cost for Equipment | No equipment costs with any monthly alert monitoring program. |
| Cost Per Month | Systems start at $24.95 per month. |
| Advance Payment Discounts | No |
| Monitoring Agreement Term | No long-term contracts. |
| Repairs or Replacement Charges | They will charge you $300.00 for the equipment if it is stolen or lost but not for normal wear and tear. You can purchase their equipment insurance protection plan on the system for free replacements (for any reason) for an additional $5.00 per month. |
| Cancellation Policy & Discounts | MedGuard Alert – Lifewatch USA Review |
| Cancel at Any Time | Yes, but there is a $50 restocking fee for any equipment that is sent back to them. |
| Senior Discount | No |
| Other Discounts | No |
| Equipment | MedGuard Alert – Lifewatch USA Review |
| Approximate Button Range in Typical Home | 500-800 Ft depending on the system you choose. |
| Watch/Button Battery Life | Approximately 5 years. |
| What Happens if I Lose Power | The system should last up to 4 days using battery back-up. |
| Is the Watch/Button Waterproof | Yes |
| How Can The Button Be Worn | Pendant or wrist options. |
| UL Certified Equipment | Yes |
| Does The System Automatically Test Itself To The Monitoring Center | Yes, they perform periodic test calls. |
| 24 Hour Technical & Customer Support | Yes |
| Monitoring Station | MedGuard Alert – Lifewatch USA Review |
| TMA Five Diamond Certified Monitoring Center | No |
| Typical Response Time When Button Pressed | Between 25-30 seconds. |
| Other Options & Information | MedGuard Alert – Lifewatch USA Review |
| How Fast Does System Ship | 2-3 business days. |
| Do You Need Separate Systems For Mom & Dad | No. However, an additional pendant is $5 per month. |
| Optional Advanced Features | MedGuard Alert – Lifewatch USA Review |
| Activity or Inactivity Monitoring | No |
| Senior Fall Detection | Yes |
| Cellular or No Phone Line | Yes |
| Smoke or Carbon Monoxide Protection | No |
| GPS Medical Alert Tracking System | Yes |
| Special Offers | MedGuard Alert – Lifewatch USA Review |
| Special Offers For Our Visitors | None at this time |
MONTHLY COSTS & FEES
MedGuard's monthly fees are in-line with other medical alert monitoring companies, in fact, they have significantly lowered their previous pricing to stay competitive. They do not however offer advanced payment discounts like many of their competitors. MedGuard's mobile on-the-go product is in line price-wise with others in the medical alert monitoring industry and the fact that they do not have shipping fees or long-term contracts is a plus. The Personal 4G Care Watch is an option for those who want protection on the go. Keep in mind that the In-home Cellular system, the Personal Alert GPS System and the Personal 4G Care Watch all come with automatic fall detection included in the monthly price. It is not available for the In-Home Landline system.
| | |
| --- | --- |
| MedGuard LifeWatch USA System | Cost Per Month |
| In-Home Landline | $24.95 |
| In-Home Cellular | $29.99 |
| Personal Alert GPS System | $34.95 |
| Personal 4G Care Watch | $44.95 |
WHAT WE LIKE ABOUT MEDGUARD
Mobile Medical Alert with GPS Option – The Personal Alert Device System with GPS and optional built-in fall detection may be a good option for those who want protection outside of the home.
24-Hour Support – The MedGuard Alert emergency support team is available 24/7 and their centers are based in the USA.
Company Owned Monitoring Center – The monitoring center is company owned but not TMA Five Diamond Certified. Monitoring center agents are EMT and EMD certified.
Fall Detector Options – Since diabetics have the tendency to faint and falls are common among seniors, fall detectors can be helpful because the user may be unable to press their medical emergency button. This option is only available for the In-Home Cellular system, Personal Alert GPS Device System and the Personal 4G Care Watch. This feature is included in the monthly cost.
No Long-Term Contracts – Cancel MedGuard's services at any time as they do not require any pre-paid plans or long-term contracts. Their FAQ section has a sample copy of their monitoring agreement for you to read in advance of making a purchase.
WHAT WE DISLIKE ABOUT MEDGUARD
No Long-Term Contract But Has Re-Stock Fee – You can cancel any time, even before the service has started if you change your mind. However, you must return the equipment if you don't want to be charged and there is a $50 restock fee.
No Carbon Monoxide or Smoke Detection – Both are important features to have in your home and MedGuard does not have these options at this time. We highly suggest installing these detectors on your own if your medical alert company does not provide them.
No Activity Monitoring – Activity monitoring typically requires the user to check-in with the system by pressing a button once every 24 hours or automatically checked with motion sensors and door contacts. This is very beneficial as it allows you to know that your loved one is active and about each day.
No Advanced Payment or Senior Discounts – Most medical alert companies offer a discounted rate for paying annually.
FREQUENTLY ASKED QUESTIONS (FAQS)
What's the difference between a medical alert device from MedGuard and simply calling 911?
The difference is that by just the push of a button, you will be connected with an EMT trained emergency call specialist who can get you the help you need and also notify your loved ones. MedGuard will have your medical history on file to help emergency responders provide more customized care.
Do I need a professional to install my MedGuard medical alert system?
No. MedGuard will send self-installation instructions which typically is as simple as plugging the unit in and connecting a phone line, if needed. They will also test the unit with you to be sure it is working correctly.
What if I need to cancel my MedGuard medical monitoring services?
Call their customer service number to cancel. There are no long-term contracts so you will not pay a penalty for canceling. Just be sure to follow their cancellation policies.
Will my MedGuard device work if the power goes out?
MedGuard's in-home medical alert system has a backup battery that will last up to four days in case you lose power for whatever reason.
How much does MedGuard cost?
MedGuard's systems start at $29.99 for their in-home landline medical alert system and the price goes up from there. They do not charge equipment fees.
WHAT OTHERS ARE SAYING ABOUT MEDGUARD
MedGuard Alert's products do not have reviews on their website at the time of this review. The consensus of the reviews we've found talk about MedGuard's service being reliable and convenient with 24-hour support.
MedGuard is not BBB accredited and they have 16 BBB complaints at the time of this review. Although they have an A+ rating with the Better Business Bureau (up from a B+), customer reviews average 1.67 stars out of 5. Many of the complaints on file with the BBB mention billing issues with MedGuard. A few users complained about returning the equipment and they are continued to be billed. We read many complaints about their customer service and their persistent calling. Some have even gone as far as to accuse MedGuard of tricking their elderly loved ones into buying their services. It is interesting to note that LifeWatch USA which was bought by MedGuard in 2017 had similar robocall complaints. MedGuard denies these practices however in June 2018, there was a class-action lawsuit brought against MedGuard for unlawful robocall practices.
BOTTOM LINE
MedGuard Alert's (LifeWatch USA) website now offers online pricing so you can order online or you can call their customer service department. Our call was pleasant and the customer sales rep was not pushy.
MedGuard offers three system options – a traditional in-home system (with or without a landline), the Personal Alert GPS Device System and the Personal 4G Care Watch, which has some similar features to the Apple Watch and other medical alert smart watches. The Personal Alert Device System is good for those who need coverage inside and outside of the home and are prone to falls. It comes with fall detection and can be worn in the shower where many falls occur. We also prefer to recommend a company whose monitoring centers are TMA Five Diamond Certified.
Considering all of the new technology and competition in the medical alert marketplace be sure to consider the many other options that are available to you before making your final choice.
Although our experience with this company had these results, your experience may be different. If you're interested in this company's services, contact them to judge for yourself.