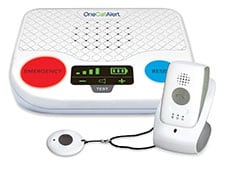 WHO IS ONE CALL ALERT?
One Call Alert has been in business since 2003. They are an in-home medical alert monitoring company that specializes in medical alert devices. Their U.S.A. based emergency response operators are on call 24/7 to provide assistance to One Call Alert customers. Their headquarters are located in Boca Raton, FL. One Call Alert's sister company is American Medical ID and One Call Alert has been sold in Walmart, CVS, Rite Aid and Publix. One Call Alert was also recently acquired by MobileHelp, according to their customer service agent.
REVIEW SUMMARY
There are six medical alert system or products that One Call Alert offers. Please note, you must have AT&T cellular wireless coverage in your area for the cellular-based systems to function properly.
1. In-Home Landline: This traditional in-home system comes with two-way voice and a waterproof pendant. You will need a landline to utilize this system. This system does not have an automatic fall detection option.
2. In-Home Wireless: This cellular based system is to be used in and around the home. This system has two-way voice communication but is not GPS enabled for tracking. There is a medication reminder option as well as automatic fall detection.
3. Mobile On-the-Go: GPS enabled medical alert device that can be used at home or on the go. It also comes with a two-way voice pendant with built-in speaker. Automatic fall detection is available as an option.
4. Mobile Double: Double the coverage for two of your loved ones. This system comes with two GPS enabled two-way voice activated devices with built in speakers. No landline required. You can add-on automatic fall detection.
5. Complete Protection: This package provides medical alert help in the home and on-the-go with no required land line. You get the wireless in-home system and the GPS on-the-go system, as well as a free lock box.
6. All-in-One: One Call Alert's newest product offering is a small and lightweight mobile medical alert system. It includes GPS location tracking with a high-quality speaker. The pendant can be worn a multitude of ways and is water resistant.
One Call Alert vs. MobileHelp
One Call Alert and MobileHelp are both medical alert systems designed to provide assistance to seniors or individuals with medical conditions who may require emergency help. One Call Alert offers a range of products including a wearable device and a home base station, whereas MobileHelp primarily offers wearable devices with GPS tracking capabilities. One Call Alert's home base station provides a range of 1,000 feet, while MobileHelp's wearable devices have a range of up to 600 feet. Both companies offer 24/7 monitoring services and have waterproof devices for use in the shower or bath. However, MobileHelp offers a wider range of wearable device options including a smartwatch, which may appeal to individuals who prefer a more discreet device. Ultimately, the choice between One Call Alert and MobileHelp may come down to personal preference and specific needs.
PROS
No long-term contracts, risk-free 30-day trial period, medication reminder option, automatic fall detection, 24-hour emergency support, no cancellation fees (as long as the equipment is returned), advanced payment discounts and competitive pricing.
CONS
Not TMA Five Diamond certified, and they do not offer smoke detection or carbon monoxide monitoring options. No activity monitoring and no automatic system testing. Prices subject to change without notice unless you pay for a price lock.
RATING:
SINCE YOU'RE LOOKING AT ONE CALL ALERT, CONSIDER TAKING A LOOK AT MOBILEHELP FOR COMPARISON.
COMPARE DEVICE FEATURES:
| | |
| --- | --- |
| PROS & CONS TO CONSIDER | How did One Call Alert do? |
| Price | One Call Alert Review |
| Cost for Equipment | There is no cost for equipment however there is a $49.95 subscription fee for the In-Home Wireless system that is waived if you pay annually. |
| Cost Per Month | Plans start at $19.95 a month. |
| Advance Payment Discounts | Yes |
| Monitoring Agreement Term | 30-day risk free trial period. Â No long-term contracts. You must return the equipment upon cancellation to avoid equipment charges. |
| Repairs or Replacement Charges | Replacements can cost up to $300.00. One Call Alert has a Connect Premium service for $6.00 a month that will protect your equipment. |
| Cancellation Policy & Discounts | One Call Alert Review |
| Cancel at Any Time | Yes |
| Senior Discount | No |
| Other Discounts | No |
| Equipment | One Call Alert Review |
| Approximate Button Range in Typical Home | In-Home system covers up to 1,300 ft from the base station. |
| Watch/Button Battery Life | Mobile device lasts up to 30 hours when fully charged. The help buttons have a battery life of 5+ years, and they will send a replacement once they get a low battery signal. |
| What Happens if I Lose Power | Backup battery last up to 32 hours. |
| Is the Watch/Button Waterproof | Yes |
| How Can The Button Be Worn | Wrist or lanyard |
| UL Certified Equipment | Yes |
| Does The System Automatically Test Itself To The Monitoring Center | No. They suggest users test the equipment themselves at least once a week. |
| 24 Hour Technical & Customer Support | 24-hour emergency support is available. |
| Monitoring Station | One Call Alert Review |
| TMA Five Diamond Certified Monitoring Center | No |
| Typical Response Time When Button Pressed | Average response time of 20-30 seconds |
| Other Options & Information | One Call Alert Review |
| How Fast Does System Ship | Equipment will ship the next business day after you order. Free ground shipping takes 3-7 business days to arrive. |
| Do You Need Separate Systems For Mom & Dad | Not if you order the Mobile Double. It will cover both of them. |
| Optional Advanced Features | One Call Alert Review |
| Activity or Inactivity Monitoring | No |
| Senior Fall Detection | Yes, available with every system except the In-Home landline. |
| Cellular or No Phone Line | Yes |
| Smoke or Carbon Monoxide Protection | No |
| GPS Medical Alert Tracking System | Yes |
| Special Offers | One Call Alert Review |
| Special Offers For Our Visitors | None at this time. |
MONTHLY COSTS & FEES
One Call Alert's costs and fees are straightforward and competitive in the medical alert marketplace. There is no equipment to buy and no activation fees for most of the plans. They also offer free ground shipping on most plans too.
Automatic fall detection can be added to all of the plans too, except the in-home landline, for an additional $11.00 per month. If you have two users in the same household that need a medical alert device, the Mobile Double plan is a great option. You will receive two units and monitoring services for two people for close to the price of one.
Please note that on their website it states that prices are subject to change without notice. We confirmed with them that this also means after you signed-up as a customer. However, they did note that prices have not increased in a long time. If you wanted to protect your monthly payment fee, you can purchase their price lock plan for $6.00 per month to ensure the price will never go up. Some medical alert companies offer price lock guarantees at no charge. Since there are no long-term contracts with One Call Alert, we do not suggest paying for a price lock. You can simply cancel the service if you don't feel the increase is justified and they won't honor your current pricing.
| | | | | | |
| --- | --- | --- | --- | --- | --- |
| One Call Alert System | Cost When Paid Monthly | Cost Per Month (Quarterly) | Cost Per Month (Semi-Annual) | Cost Per Month (Annual) | Fall Detection Cost Per Month |
| In-Home Landline | $24.95 | $24.95 | $22.95 | $22.95 | N/A |
| In-Home Wireless | $19.95* | $32.95 | $29.95 | $29.95 | $10.00 |
| Mobile On-the-Go | $37.95 | $34.95 | $32.95 | $32.95 | $10.00 |
| Mobile Double | $44.95 | $42.95 | $39.95 | $39.95 | $10.00 per user |
| Complete Protection | $41.95 | $39.95 | $36.95 | $36.95 | $10.00 |
| All-in-One | $39.95 | $39.95 | $36.95 | $36.95 | $10.00 |
*The In-Home Wireless system has a subscription fee of $49.95 but is waived if you are paying annually. If you can afford to pay annually, you can avoid the one-time processing fee of $49.95. One Call Alert had mentioned this to us as well.
WHAT WE LIKE ABOUT ONE CALL ALERT
Reasonable Service Rates – One Call Alert has competitive rates for both their In-Home and Mobile systems. We suggest comparing other medical alert companies such as Medical Guardian prices.
Cancel at Any Time Policy – No long-term contracts, you can cancel at any time. If you are not happy with their service, you can cancel and get a refund for unused monthly services when you ship your equipment back to them.
Cellular Option – Most of their subscriptions are cellular based in case you are without traditional land-line phone service, which are becoming increasingly unreliable for alarm monitoring.
Fall Detector Option – (Available with all their systems except In-Home Landline) Since some diabetics can have the tendency to faint and falls are common among seniors, fall detectors can be helpful because the user may be unable to press their medical emergency button.
Mobile GPS Option – For seniors or even young children on the go, this GPS technology may be an important option for you. The GPS can track your loved one's location and send help exactly where they are when they need it.
Advanced Payment Discounts – One Call Alert offers advanced payment discounts on all their systems.
WHAT WE DISLIKE ABOUT ONE CALL ALERT
Monitoring Centers Not TMA Five Diamond – This is an important certification that requires an annual renewal with The Monitoring Association, which shows a commitment to a higher level of service. There are some great monitoring centers that do not have this designation but we prefer monitoring centers that do.
No Carbon Monoxide or Smoke Detection – Both are important features to have in your home and One Call Alert does not have these options.
Prices Subject to Change – One Call Alert states on their website the prices are subject to change at any time. If you are on a fixed income or simply watching your monthly expenses this can be unnerving. You can purchase their price lock plan for $6.00 a month. We prefer companies that have price lock guarantees included at no additional charge.
No Automatic Testing – We prefer that medical alert systems send daily or weekly test signals to the monitoring center to test the communication path between the medical alert system and the monitoring center. One Call Alert suggests the users test the system themselves weekly, which might be difficult for some users to remember.
No Activity Monitoring – Some medical alert companies offer a feature called activity monitoring. It allows you to know if your loved one has been active each day. The user must press a medical alert button once in every 24-hour period or more advanced systems use door contacts, motion sensors and bed sensors to detect no or irregular activity patterns. Activity monitoring allows you peace of mind each day.
Frequently Asked Questions (FAQs)
Who owns One Call Medical Alert?
One Call is based in Boca Raton, Fl and is owned by its parent company, MobileHelp.
Is One Call a good company?
One Call has excellent reviews and an A+ BBB rating. In terms of pricing and product offering, we would consider them a good medical alert option.
How does One Call Alert work?
One Call offers a few different medical alert system options. They do have an in-home traditional medical alert, that works by pushing a button on your pendant, and the system will call into their monitoring center which will assess your need for emergency help.
Does AARP recommend medical alert devices such as One Call Alert?
Yes, AARP does recommend that seniors who need additional help at home use a medical alert system. They do not however endorse a specific company.
How many customers does One Call medical alert have?
One Call claims to have over 100,000 customers since opening in 2016.
WHAT OTHERS ARE SAYING ABOUT ONE CALL ALERT
Most of the reviews we found on One Call Alert online were positive. Best Company had the overwhelming majority of positive reviews with 75% being 5 stars. Customers have said that One Call Alert's customer service is caring and helpful. Others are happy with the response times, service and equipment. The few negative reviews we found mentioned the unit not working properly in their home. This could be due to the location of the home and strength of cellular signal. We suggest calling One Call Alert before you start service to ensure you have good cellular coverage in your area.
One Call Alert is not a BBB accredited business but they are 5-star rated with an A+ rating and do not have any negative complaints on file at the time of this review.
BOTTOM LINE
One Call Alert's brand may look familiar as it is sold in various drug stores across the country. One Call Alert has competitive pricing on their medical monitoring packages. However, we are a little wary as they clearly state on their website that pricing may change at any time. But, since you are not locked into a long-term contract (another bonus!) you can cancel at any time. Be sure to promptly return the equipment back to One Call Alert so you are not continually charged.
One Call Alert has two UL certified monitoring call centers located in different parts of the United States, so you can be reasonably assured you will still be monitored if one of the centers is affected by a natural disaster. The monitoring centers however are not TMA Five Diamond Certified, which is a distinction we prefer monitoring centers to have. One Call Alert also does not automatically test their equipment or call to remind you to test it, so we suggest setting a reminder to test your medical alert system at least once a week.
One Call Alert was recently acquired by MobileHelp which is a well-established medical alert monitoring company and OEM equipment manufacturer. We will keep an eye on One Call Alert for any changes that may go along with a major acquisition.
Although our experience with this company had these results, your experience may be different. If you're interested in this company's services, contact them to judge for yourself.