---
Most medical alert monitoring companies provide self-installation kits for you, the user. They do this because these medical alert systems are very easy to install. Your medical alert company will have specific installation instructions and procedures for activating your system and service. Please follow them carefully, and use this video as a basic guide.
We will focus on the popular Linear Personal Emergency Reporting System, that is used by many providers, including LifeStation. This system is UL Listed as a home healthcare signaling device, which means that it has been tested and certified by one of the most respected independent testing agencies in the world.
The basic installation steps are as follows:
1. Unpack your medical alert system and be sure you have all of the systems components. That will usually include: the main system console, the plug in transformer, your wireless medical pendant or wristwatch, a telephone line, and any other optional transmitters or devices you may have ordered.
2. Put together your transmitter as either a wristwatch, pendant, or belt-clip. The wristwatch is a very popular option.
3. Find a suitable place in the home for the console. A central part of the house would be a good choice as it will spread the range of the transmitters more equally. Most likely you will want to locate the unit in either the bedroom on a nightstand, in a family room near a TV, or any place where your loved one spends most of their time. Wherever you choose, the system needs to be near a telephone jack and AC power receptacle.
4. Unplug your telephone from the wall jack and plug it into the jack on the console marked "Phone."
5. Use the supplied telephone line cord and plug it into the console to the jack marked "Wall" or "Line," and connect the other end to the wall where you removed the telephone connection.
6. Plug the AC transformer in a wall outlet. Be sure that the wall outlet has power all the time and can not be turned-off by a switch.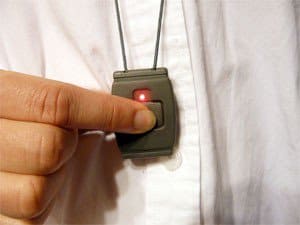 7. Follow your testing procedures provided by your medical alert monitoring company.
That's it. It's very simple. Be sure to follow your providers testing procedures which should include testing monthly to the monitoring station.
We sure hope that this Buyer's Guide has been helpful. Please check out our medical alert system reviews and product comparisons located on this site. Our medical alert system ratings can help you make the best choice for your loved ones. They provide clear and easy to use information to make your decision on this most important purchase as easy as possible.